Tiburon Laboratory: Invasions and Community Ecology on the US West Coast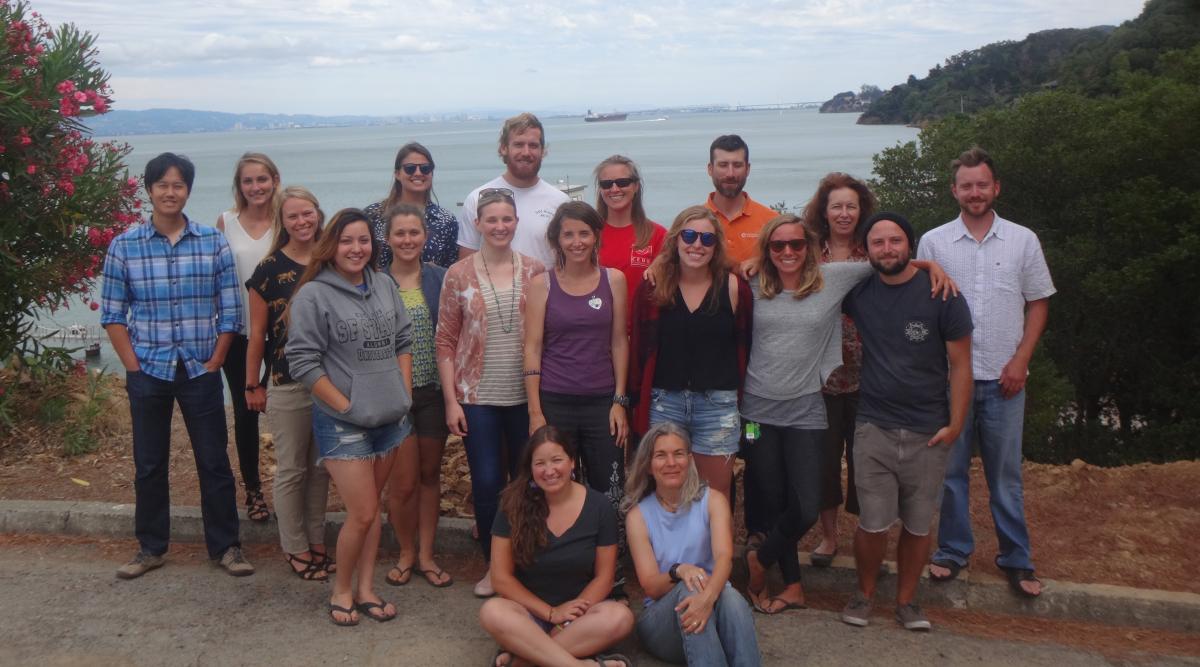 Our core mission is to track the pulse of biotic change in the estuaries and coastlines along the Pacific Coast of North America. We identify non-native species in San Francisco Bay and surrounding coastlines, from Alaska to Panama, learn how their life cycles work in these new environs, and determine what effects they might be having on resident communities. We seek, in short, to make the consequences of moving species to strange new oceans both known and predictable, including how these species will interact with changing climate regimes.
Since 2000, our researchers have maintained a laboratory on San Francisco Bay, at San Francisco State University's marine research and teaching facility, the Romberg Tiburon Center (RTC). A 2013 Memorandum of Understanding between the Smithsonian and San Francisco State University expanded our relationship and signified our joint commitment to understand and protect the marine environment. With our colleagues at RTC and the San Francisco Bay National Estuarine Research Reserve, we are excited to be part of a community of researchers engaged in working out the effects of global change, invasions, and many other pressing issues in truly complementary fashion.
The Tiburon team is led by Dr. Andrew Chang, and includes Dr. Chela Zabin, Linda McCann, Dr. Gail Ashton, Michelle Marraffini, Lina Ceballos, Julia Blum, and Dr. Haizea Jimenez.
Community Ecology
We have undertaken intensive, long-term studies of marine and estuarine communities across several habitats in California and especially San Francisco Bay, including hard substrates (fouling), soft sediment benthos, and plankton. We have used settlement panels to study fouling community development and invasion impacts since 2000 as part of an international effort to understand and document patterns of the species distributions and invasion in marine coastal waters. Recent studies have paired traditional morphological approaches to species identification with genetic approaches (with our collaborator, Dr. Jonathan Geller) to get a more complete picture of the species in California bays and near-shore environments.
Invasive Species
Spread
Vessels of all kinds move species within and between bays. Our scientific divers conduct in-water hull surveys of boats and ships in West Coast ports and beyond to assess the role of vessel biofouling in moving organisms from port to port. Read more about our work on cargo and cruise ships in the Smithsonian Magazine.
Eradication
We have studied ways to make eradication of targeted non-native pest species more efficient and effective, and have undertaken numerous eradication efforts, including the Japanese Mudsnail (Batillaria attramentaria) and the colonial tunicate Didemnum vexillum. Most recently, we have been working with UC Davis to monitor and eradicate a local population of non-native European Green Crabs (Carcinus maenas) near Stinson Beach, CA.
Native Olympia Oysters
We collaborate with a number of agencies and research facilities to investigate native Olympia oyster (Ostrea lurida) demographics along California's shorelines. Using a rigorous combination of field surveys, laboratory experiments, and population modeling, we examine the influence of environmental factors, climate change, and non-native species on the distribution and abundance of native oysters. We are also investigating oyster enhancement and restoration methods in San Francisco Bay and Elkhorn Slough.
Citizen Science
Citizen scientists form an essential and dedicated component of our research efforts. We run a citizen science network (PlateWatch and Green Crab Watch) to monitor for target non-native species along the Pacific Coast from Alaska to California. Participants include scientists from local state and federal agencies, concerned citizens, school groups and native groups. Within San Francisco Bay, we run citizen science programs to track Olympia oyster recruitment and the movement and predatory effects of the introduced snail Urosalpinx cinerea. If you wish to participate in any SI Citizen Science program, please contact Allison Cawood for more information at cawooda@si.edu.
Mentoring
We mentor interns and students in a wide range of capacities, and we usually host several undergraduate interns each summer. Our interns come from STAR and REU programs at San Francisco State University as well as the Smithsonian Internship program, which includes an REU program and numerous other opportunities. Each student participates in major lab projects as well as designs and executes an individual research project. Please see each program for their requirements and how to apply.
Newcomer, Katherine A., Marraffini, Michelle L., and Chang, Andrew L. (2018) Distribution patterns of an introduced encrusting bryozoan, Conopeum chesapeakensis (Banta, Perez and Santagata, 1995) in an estuarine environment in upper San Francisco Bay. Journal of Experimental Marine Biology and Ecology 504: 20–31. DOI: 10.1016/j.jembe.2018.04.001
Chang, Andrew.L., Brown, Christopher W., Crooks, Jeffrey A., Ruiz, Gregory M. (2017). Dry and wet periods drive rapid shifts in community assembly in an estuarine ecosystem. Global Change Biology. DOI: 10.1111/gcb.13972
Marraffini, Michelle L., Brown, Christopher W., Ashton, Gail, Chang, Andrew L., and Ruiz, Gregory M. (2017) Do settlement plates effectively sample established fouling communities for non-indigenous species? Management of Biological Invasions.
Jimenez, Haizea, Keppel, Erica, Chang Andrew L., and Ruiz, Gregory M. (2017) Invasions in marine communities: contrasting patterns of species richness and community composition across habitats and salinity. Estuaries and Coasts. http://dx.doi.org/10.1007/s12237-017-0292-4
Tracy, Brianna, Larson, Kristen, Ashton, Gail, Lambert, Gretchen, Chang, Andrew L., and Ruiz, Gregory M. (2017) Northward range expansion of three non-native ascidians on the west coast of North America. BioInvasions Records. http://dx.doi.org/10.3391/bir.2017.6.3.04
Cheng, Brian S., Chang, Andrew L., Deck, Anna and Ferner, Matthew C. (2016). Atmospheric rivers and the mass mortality of wild oysters: insight into an extreme future? Proceedings of the Royal Society B: Biological Sciences, 283 (1844) http://dx.doi.org/10.1098/rspb.2016.1462
Chang, Andrew L., Deck, Anna K., Sullivan, Lindsay J., Morgan, Steven G., and Ferner, Matthew C. (2016) Upstream – downstream shifts in a recruitment hotspot of the native Olympia oyster in San Francisco Bay during wet and dry years. Estuaries and Coasts. http://dx.doi.org/10.1007/s12237-016-0182-1
Crooks, Jeffrey A., Chang, Andrew L. and Ruiz, Gregory M. (2016). Decoupling the response of an estuarine shrimp to architectural components of habitat structure. PeerJ, 4 http://dx.doi.org/10.7717/peerj.2244
Jimenez, Haizea, and Ruiz, Gregory M. (2016). Contribution of non-native species to soft-sediment marine community structure of San Francisco Bay, California. Biological Invasions. http://dx.doi.org/10.1007/s10530-016-1147-9
Wasson, Kerstin, Hughes, Brent B., Berriman, John S., Chang, Andrew L., Deck, Anna K., Dinnel, Paul A., Endris, Charlie, Espinoza, Michael, Dudas, Sarah, Ferner, Matthew C., Grosholz, Edwin D., Kimbro, David, Ruesink, Jennifer L., Trimble, Alan C., Vander Schaaf, Dick, Zabin, Chela J. and Zacherl, Danielle C. (2016). Coast-wide recruitment dynamics of Olympia oysters reveal limited synchrony and multiple predictors of failure. Ecology, 97 (12) , 3503-3516. http://dx.doi.org/10.1002/ecy.1602
Zabin, Chela J., Wasson, Kerstin and Fork, Susanne. (2016). Restoration of native oysters in a highly invaded estuary. Biological Conservation, 202, 78-87. http://dx.doi.org/10.1016/j.biocon.2016.08.026
Ashton, Gail V., Davidson, Ian C., Geller, Jonathan, and Ruiz, Gregory M. (2016). Disentangling the biogeography of ship biofouling: barnacles in the Northeast Pacific. Global Ecology and Biogeography, 25, 739–750. http://dx.doi.org/10.1111/geb.12450
McCann, Linda, Keith, Inti., Carlton, James T., Ruiz, Gregory M., Dawson, Terence P. and Collins, Ken. (2015). First record of the non-native bryozoan Amathia (Zoobotryon) verticillata (delle Chiaje, 1822) (Ctenostomata) in the Galapagos Islands. BioInvasions Records, 4 (4) , 255-260.http://dx.doi.org/10.3391/bir.2015.4.4.04
Ashton, Gail, Davidson, Ian C. and Ruiz, Gregory M. (2014). Transient small boats as a long-distance coastal vector for dispersal of biofouling organisms. Estuaries and Coasts, 37 (6) , 1572-1581.http://dx.doi.org/10.1007/s12237-014-9782-9
Canning-Clode, João, Fofonoff, Paul, McCann, Linda, Carlton, James T. and Ruiz, Gregory M. (2013). Marine invasions on a subtropical island: Fouling studies and new records in a recent marina on Madeira Island (Eastern Atlantic Ocean). Aquatic Invasions, 8 , 1-10.
McCann, Linda D., Holzer, Kimberly K., Davidson, Ian C., Ashton, Gail V., Chapman, Marnie D. and Ruiz, Gregory M. (2013). Promoting invasive species control and eradication in the sea: Options for managing the tunicate invader Didemnum vexillum in Sitka, Alaska. Marine pollution bulletin, 77 (1-2) , 165-171. http://dx.doi.org/10.1016/j.marpolbul.2013.10.011