SERC Fact Sheet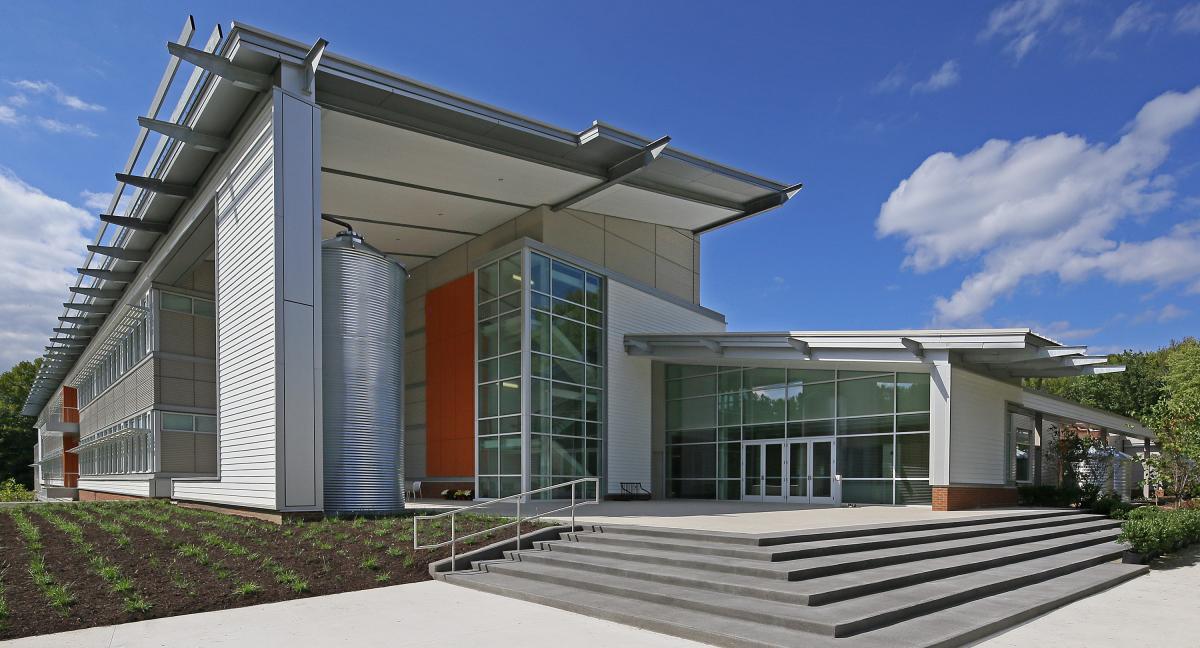 Charles McC. Mathias Laboratory, the Smithsonian's first green building to earn LEED Platinum. (Photo: Smithsonian Institution)
The Smithsonian Environmental Research Center is the leading national research center for understanding environmental issues in the coastal zone. The world's coastal zones are home to roughly 70 percent of the global population and subject to intense activity. SERC ecologists conduct interdisciplinary studies at its headquarters on Chesapeake Bay and in coasts around the world, from Alaska to the tropics of Central America to the seas of the South Pole.
Scientific Research
SERC research focuses on six main issues: invasive species, global change, biodiversity, food webs, land use, and pollution from nutrients and toxic chemicals. Highlights include:
Aquatic Invasions. SERC is the national center for analyzing invasive species patterns in marine and estuarine ecosystems. The Marine Invasions Laboratory measures species invasion through field surveys of all U.S. coastal states and many international ports. It also includes the National Ballast Information Clearinghouse, a database in which commercial ships operating in U.S. waters report how they manage their ballast water—a major method by which ships can inadvertently transport invasive species.
The Global Change Research Wetland is an experimental marsh dedicated to forecasting the fate of tidal wetlands under under various global changes predicted in the future. Begun in 1987, the Global Change Research Wetland supports several unique long-term experiments and datasets on warming, sea level rise, nitrogen pollution, invasive species, soil elevation change and carbon dynamics, including the world's longest-running field experiment on ecosystem responses to elevated CO2.
Biodiversity and Migrations. SERC has built a database spanning four decades on species composition and populations dynamics of plants and animals in the Chesapeake Bay region. SERC scientists also track biodiversity and migration patterns of sharks, rays and other species throughout North America through the Smithsonian's Movement of Life Initiative. Globally, SERC is the headquarters of the Marine Global Earth Observatory (MarineGEO), which tracks marine biodiversity in coasts around the world.
Forest Ecosystems.  SERC conducts extensive research on forest ecosystems. SERC leads and manages the temperate zone component of the Forest Global Earth Observatory (ForestGEO), a global network tracking how more than 70 forests on six continents are responding to climate change and other factors. SERC ecologists measure long-term (30-year) changes in a plot of mapped trees in the Eastern hardwood forest on SERC property spanning over 100 acres. In 2013, SERC scientists and volunteers planted BiodiversiTREE, an experimental forest designed to explore the effects of tree species diversity on forest ecosystem functions for 100 years. SERC is also a leader in the ecology of mangroves, the key shoreline forests of the tropics.
Chesapeake Bay. SERC research focuses on human impacts and conservation in Chesapeake Bay, the largest estuary in the United States. SERC uses its data to advise policy for conserving vital fisheries like blue crabs and oysters, and for improving the health of the entire Chesapeake Bay ecosystem. Long-term records, some stretching back 30 years or more, track water quality, plankton blooms, food web dynamics, blue crab ecology, fish populations, host–parasite interactions, wetland functions, invasive species, and other indicators of Bay health.
Pollution. SERC is a leader in research on nutrient pollution, especially on the sources, transfer and impacts of fertilizer from farmland and developed land to coastal waters. SERC also has experts on toxic chemical pollution by heavy metals, particularly mercury.
Human Land Use and Environmental Archaeology. Research at SERC on how land use impacts water quality—including agriculture and coastal development—has revealed the vital role of streamside forests in preventing nutrient runoff into estuaries. SERC also tracks land use from centuries past in its Environmental Archaeology Lab, run entirely by volunteer citizen scientists. Research at the Environmental Archaeology Lab examines how generations of Native Americans, farmers and enslaved residents used and transformed the land, and the lessons they hold for sustainability today.
Publications and Conference Participation
SERC scientists have published more than 2,500 scientific papers, journal articles and books about ecological dynamics and human interactions with the environment. SERC staff and fellows give more than 300 talks in workshops and conferences annually.
Education and Public Programs
To prepare the next generation of environmental scientists, SERC provides educational opportunities for students from kindergarten through the postdoctoral level. SERC has trained more than 1,200 undergraduate interns and approximately 450 postdoctoral, doctoral and graduate student fellows from more than 150 colleges and universities. On average, 45 interns and 20 fellows participate in SERC's professional training program annually.
A variety of hands-on science experiences and environmental field trips are available for school groups, giving students a chance to test water quality, explore oyster bars and seine for fish and crabs in the river. Teacher workshops offer scientific training, continuing education and environmental curricula. SERC's education department also offers programs for the general public, including an evening lecture series, guided canoe expeditions, docent-led tours and Science Saturdays where visitors can do hands-on activities with scientists. For drop-in visitors, the SERC campus is open for hiking, biking and kayaking six days per week. 
SERC coordinates an active Citizen Science Program, with more than 3,000 volunteers helping do research for on-site, off-site and digital projects. Topics include forest ecology, fisheries, invasive species, orchid conservation and habitat restoration projects.
Facility
Established in 1965, SERC's campus sits in Edgewater, Maryland, 25 miles from Washington, D.C. The site encompasses 2,650 acres of land and 15 miles of protected shoreline along the Rhode and West Rivers, two embayments of Chesapeake Bay. The landscape serves as a natural laboratory for long-term ecological research on the interactions of land, water and air in the coastal zone.
SERC's campus houses the Charles McC. Mathias Lab, the first Smithsonian building to earn LEED Platinum status, the highest LEED ranking in green building. It also includes the historic Woodlawn House. Built circa 1735, Woodlawn is the oldest Smithsonian building still in its original location.
SERC scientists base their research at its headquarters in Maryland, but extend their studies around the world, using Chesapeake Bay as a model for ecological processes and human impacts in other areas. Since 2000, SERC scientists have operated a second research branch in San Francisco Bay, at San Francisco State University's Estuary & Ocean Science Center. Comparative studies stretch around the globe, from the Indian River Lagoon in Florida, the Mesoamerican Reef off Belize, the tropical ecosystems of Panama, Prince William Sound in Alaska and the Southern Ocean.
Budget and Staff
The center's current annual budget is approximately $14 million (federal and trust). The staff of more than 100 full-time employees has expertise in terrestrial and marine ecology, zoology, physiology, biology and microbiology. Maintenance and security make up 48 additional staff. The center's environmental education staff interprets and communicates research findings to schoolchildren and to the public through on-site educational programs, videoconferences and the website. A vast network of collaborators within the United States and worldwide uses SERC's research facilities.