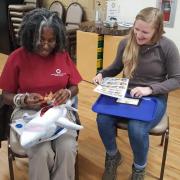 The Smithsonian Environmental Research Center (SERC) is dedicated to providing high quality educational programs that incorporate SERC research with hands-on, virtual, and inquiry-based learning. Our programs are led by SERC staff and highly-trained volunteers, and emphasize environmental literacy (eLit) and the practices of science – one of the major components of the Next Generation Science Standards (NGSS). We offer programs K-12 schools, organized groups, and teacher professional development. Programs are offered year round. Right now all of our programs are virtual, but hopefully soon we can begin offering them in person (conditional on re-opening during Covid-19). Please visit the tabs on the right of the page for more program specifics. We look forward to working with you, your students, participants, and groups. 
***NEW!!****
S.A.I.L (SERC Adult Institute of Learning)
SAIL is designed to provide lifelong learners (adults 25+) with an opportunity to keep learning, sharpen minds, and learn about SERC Science. Currently all programs are virtual but we will include immersive field experiences and nature walks when we can resume in-person programs.
 The membership cost is $50 for first season (virtual) and $90 for the second session (hopefully in person), or $140.00 for a full season,  which covers one program a month for a year on the last Friday of each month, starting in May.
Programs are 1.5 hours (1-2:30 pm).  

You can participate in as many or as few as you like. 

Minimum enrollment needed is 12 people. 
To register contact Karen McDonald (

McDonaldK@si.edu

).  You may pay by credit card over the phone with our registrar once you have been signed up.
SCHEDULE
 SPRING/SUMMER SESSION

 (Virtual)
May 28th- Introduction to Native Orchids of Maryland & SERC's Mycorrhizal Fungus research (Talk)
June 25th- Fossil Atmopsheres Research and Leaf Margin Analysis to Predict Regional Analysis (Lab class, you will need to collect 10 leaves from your community)
July 30th- How to Read a Scientific Paper for Maximum Content Understanding, Even if You're Not a Scientist (Discussion & Activity)
August 27th- Archeologist Jim Gibb Presents Current Archeological Research at SERC (title TBA, Talk)
September 24th- SERC Citizen Science: Saw Whet Owl Banding at SERC, Introduction to the Birds and Our Results so Far
FALL/WINTER SESSION
October 29th- Fish Identification for the Rhode River Estuary (if we're reopened we'll go seining) (Outside Lab or Talk)
November 19th- Nature Walk & Identification Skills, hike on the new Contee Farm Trail, approx 1.5 miles, varied terrain (TBD if not reopened) (Walk)
December 10th- Nature Book Discussion (we'll vote on a title from our top 3 choices) (Discussion)
January 28th- Analysis of River Otter Behavior and Kleptoparasitism (food stealing by raccoons) Based on Game Camera Footage (Interactive Lab)
February 25th- Owls of Maryland and Owl Pellet Dissection (Lab- must purchase pellet online, usually $2.50/ea)
March 25th- Spring Emergence Walk (Walk/Talk)