Director's Letter: Earth Day, 50 Years Later
Spring 2020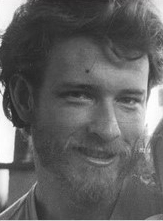 Tuck Hines as a Ph.D. student at the University of California, Berkeley.
It was September of 1969. I was just arriving to start a Ph.D. program in marine zoology at U.C. Berkeley. To get there, I had driven past an oil spill in Santa Barbara that had spewed 3 million gallons of crude oil into the sea months earlier. I also passed Monterey Bay, where sea otters and whales had not yet returned. It was a chaotic time, even more polarized than today—war in Vietnam, the draft, civil rights protests, marches, violence and heated rhetoric. But the most powerful impact on me was the intensity of environmental challenges I had experienced growing up in Hawai'i and California. The hippie lifestyle was in full swing, but so were pollution, traffic and habitat-destroying development.
That same month, a Wisconsin senator named Gaylord Nelson suggested something revolutionary. Inspired by student teach-ins protesting the Vietnam War, he proposed a nationwide teach-in for the environment. Seven months later, on April 22, 1970, Earth Day was born.
The first Earth Day was a big day at Berkeley, full of students giving soapbox speeches laced with colorful "free speech," tie-dyed clothes and the aroma of marijuana that gave way to acrid teargas. I knew then that I had to find solutions to the complex environmental decline. For me, that meant a life pursuing environmental science.
On the other side of the country, the Smithsonian Environmental Research Center was just five years old. Still a small field station called the "Chesapeake Bay Center for Environmental Studies," it had only begun building a larger vision for a permanent presence on the Bay.
Where are we now, half a century later?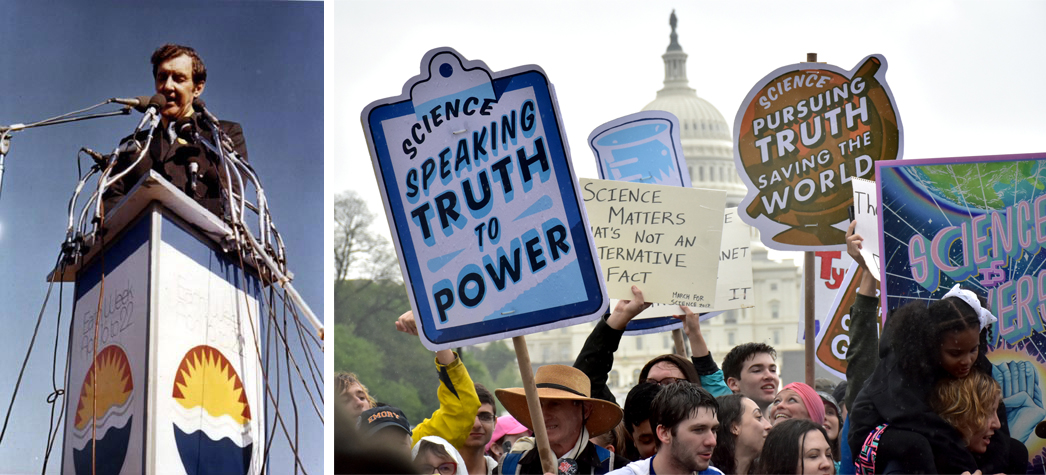 Left: Earth Day 1970. Senator Ed Muskie, author of the 1970 Clean Air Act, speaks to a crowd in Philadelphia. (Credit: Peter54321; CC License) Right: Earth Day 2017. Marchers raise signs at the March for Science in Washington, D.C. (Credit: Amaury Laporte; CC License)
For the U.S., the 1970s ushered in a new era of ecological action. The Environmental Protection Agency, Clean Water Act and Endangered Species Act all emerged in that decade. U.S. Senator Charles McC. Mathias convinced Congress to fund $27 million for research to save the ailing Chesapeake Bay. SERC scientists helped discover a solution to one of its woes—planting streamside forests to absorb excess nutrient pollution from farms.
And yet.
Oil spills still make headlines. Students are striking nationwide, this time to raise awareness of climate change. And now, a pandemic has brought much of society to a standstill.
It is time to renew the spirit of that first Earth Day. At the Smithsonian, we call this movement Earth Optimism.
Like so many people, we've had to make adjustments for the pandemic virus. A three-day Earth Optimism summit originally planned in Washington, D.C., is going all-digital. We've had to temporarily close our campus, cancel or postpone events, and direct many staff to telework.
But I've been amazed at the resilience I've seen, inside and outside the Smithsonian. Educators remain committed to their students, rethinking months of lesson plans to teach online. In response, our colleagues have unleashed the Smithsonian's vast troves of digital resources. Stories from the Earth Optimism summit will be accessible to new audiences now, at a time when the world needs positivity.
Some of those stories come from the scientists and volunteers here at SERC. Mercury pollution is falling across Maryland. Scientists are finding secrets to conserving Alaska's salmon. We even have a story about a student climate striker, a young girl named Kallan Benson who began her journey as a SERC homeschool student.
Earth Optimism was made for challenging times like these. We have the solutions to meet today's problems. And as the last weeks have shown, our society has the grit to step up and meet a crisis head-on. We need only scale up the solutions, channeling the determination of the human spirit.
What will your legacy be? This Earth Day, find the story that inspires you and join us.
-Anson "Tuck" Hines, director
Learn more at https://earthoptimism.si.edu