The Tiburon Branch of the Marine Invasions Lab - Conducting World-class research on the US West Coast Since 2000
The Tiburon Branch of the Marine Invasions Lab is a critical part of our research effort on the US West Coast. Researchers at the Tiburon lab are working to understand the patterns and processes of species distributions and invasions. Their laboratory is housed at San Francisco State University's marine research and teaching facility, the Romberg Tiburon Center (RTC).  Our collaboration with RTC and its faculty and staff  has been a great resource and is fostering new relationships with students who will become tomorrow's marine biologists. The releationship between The Smithsonian and the Rhomberg Tiburon Center was expanded in 2013 when a new Memorandum of Understanding was signed. Read more about the partnership here.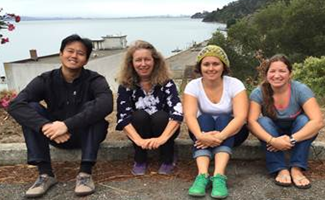 Andy Chang, Linda McCann, Michelle Marraffini, and Lina Ceballos (from left to right). Not pictured Chela Zabin and Haizea Jimenez.
The Tiburon Branch of the Marine Invasions Lab is headed by Dr Andrew Chang (Link to personal page). Dr Chang has been associated with the Marine Invasions Lab since 2000. He has a Ph.D. in Ecology (2009) from the University of Califonia, Davis and a B.A in Marine Science (2000) from Williams College.  The other members of the Tiburon team include Dr Chela Zabin, Linda McCann, Michelle Marraffini, Lina Ceballos, and Dr Haizea Jimenez.
Research Highlights
Community Ecology
Settlement panels have been deployed in San Francisco Bay on a quarterly or annual basis since 2000 as part of an international effort to understand and document patterns of the species distributions and invasion in marine coastal waters. Recent studies have paired settlement plate monitoring with plankton tows, soft sediment samples, and outer coast surveys to get a more complete picture of the species in California bays and near-shore environments.
Invasive Species
Eradication
Our efforts target many invasive species including the Japanese Mudsnail (Batillaria attramentaria) and the colonial tunicate Didemnum vexillum for removal. Most recently we have been working with UC Davis to monitor and eradicate a local population of non-native European Green Crabs near Stinson Beach, CA.  Read more about this project here.
Spread
Scientific divers conduct in-water hull surveys of boats and ships in West Coast ports and beyond to assess how animals are being moved from port to port.  Read more about our work under cargo and cruise ships in the Smithsonian Magazine.
Native Oysters
We collaborate with a number of other agencies and research facilities to investigate native Olympia oyster (Ostrea lurida) demographics along California's shorelines.  Many experiments are taking place to look at the influence of non-native species, environmental factors, and climate change on the recruitment and mortality of native oysters. We are also investigating restoration methods in San Francisco Bay and Elkhorn Slough.  For more information contact Chela Zabin at zabinc@si.edu.
Citizen Science
We have a citizen science network to monitor for target non-native species in Alaska (PlateWatch) and California (KelpWatch). Participants include scientists from local state and federal agencies, concerned citizens, school groups and native groups. If you wish to participate in any SI Citizen Science program please contact Allison Cawood at cawooda@si.edu for more information.
Mentoring
We also participate in a variety of internship progects. Our interns come from REU projects, STAR, and the Smithsonian Internship program.  Each student participates in large lab projects as well as designs and executes an individual project.  Please see each program for their requirements and how to apply.