Data Submission and Joining the Network
Submit Your Data to the CCN Data Library and Atlas
Why submit data to the Coastal Carbon Network (CCN)?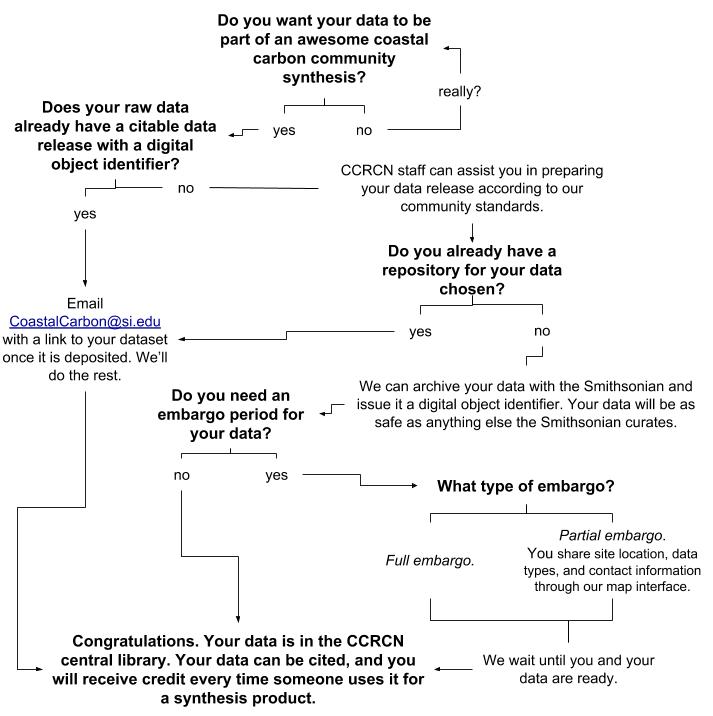 1. It will increase the likelihood that your data will be included in future syntheses and analyses. This means more citations, more collaborations, and more publicity of your work. We can also advertise your data to the community through the Coastal Carbon Atlas. This will also make your data directly accessible for projects and assessments at the state, region, and international scale, as we have detailed in our recent data inventory report.
2. The CCN is nested under the Smithsonian, a trusted institution with a legacy of long-term archival. The Smithsonian has a long history of archiving physical and digital content, as well as high visibility and recognition. Submitting data to the CCN will enable you to release your dataset as a distinct digital object identifier (DOI), which can be embargoed and versioned, and is stored under one of the Smithsonian Library's digital repositories (the default is Figshare).
3. Our data clearinghouse is targeted to serve the coastal carbon community and receptive to feedback. Because our focus is specialized, as opposed to a more general data repository, our vocabulary and structure is catered to those engaged in coastal carbon science, and we have the capability to quickly respond to new developments and recommendations through our version-controlled data structure.
4. We have full-time staff dedicated to assisting the data carpentry and archival process. Our staff are happy to assist the process of curating and publishing your data by assembling a data release that is complete with study metadata, affiliated licensing, and a reserved DOI.
5. You decide when and how the data are released to the public. By establishing an embargo on a data submission, we can ensure that the data are not made public before a certain date, or until you have published with them. Although our default data repository is the research-orientated Figshare, we are able to assist with data releases that will be deposited in other locations, such as a data bank designated by your funding sources.
Interested in contributing data to the CCN? If so, please email CoastalCarbon@si.edu and our team will assist you in the process. Data submissions can remain embargoed for a time specified by the submitter. In embargo cases a data release will be prepared and shared with the submitter via a private link. When a data release is made public, the dataset is drawn into synthesis products.
Please use our Data Submission templates, which can then be emailed to CoastalCarbon@si.edu.
Stay Up to Date with the Coastal Carbon Network
Frequent Updates
Follow @coastalcarbon on Twitter
Monthly Updates