Research Project

Movement of Life Initiative
Project Goal
The goal of the Movement of Life Initiative is to develop the science, technology, analytical tools and models to conserve and manage movement as a critical process for maintaining biodiversity and healthy ecosystems. At SERC, we focus on coastal fish and invertebrates and their connections with freshwater and the open ocean.
Description
Many species on the planet migrate during their lifetime, using different habitats in different areas for different reasons at different times.  But what are those areas?  Which are most important?  What are they used for?  Our lab is interested in learning more about migratory species, and currently our projects focus on species that move in and out and around east coast estuaries and along the Atlantic Coast.  Our lab employs various tracking techniques, including mark and recapture and acoustic telemetry, in order to gain insight into the behavior and migration. Learn more about the Movement of Life Initiative.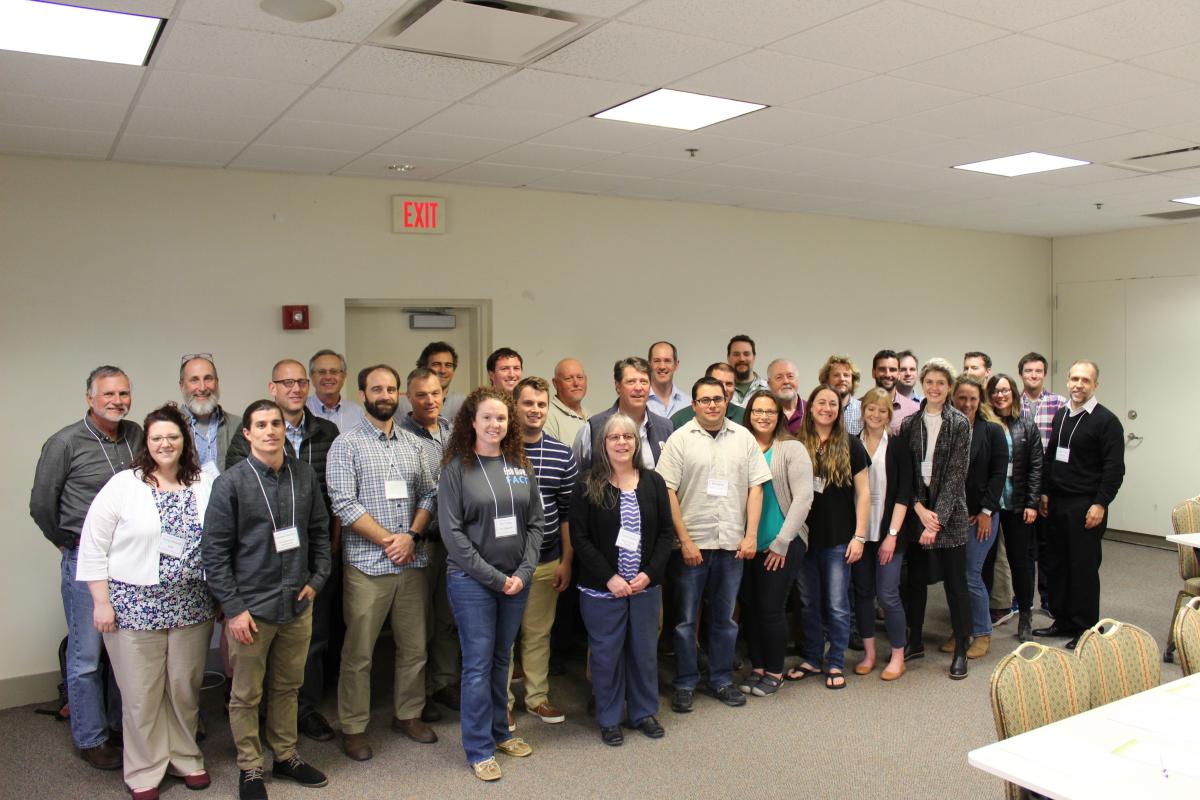 The Atlantic Cooperative Telemetry (ACT) Network is a grassroots initiative of researchers on the Atlantic coast of North America facilitating the use of acoustic telemetry for science and natural resource management. Our lab coordinates and manages data for the ACT Network, including development and implementation of the next generation acoustic telemetry database, the ACT Network data portal. This database features improved data management and quality control, automated data sharing with other regional and global databases, and long-term data archiving. We also coordinate an annual network meeting, training sessions for data management and analysis, and social media and other outreach efforts. By working together, the ACT Network is increasing our knowledge of marine species and ecosystems and translating that information for the public and policy makers to support management and conservation.
More information on the ACT network can be found here: https://www.theactnetwork.com/
ACT Network data portal: https://matos.asascience.com/
Coastal Shark Habitat Use and Migration
Video edit by Cosette Larash and Claire Mueller
Project Goal
Our goal is to use telemetry methods to better understand habitat use and migration behavior among coastal sharks in the U.S. Mid-Atlantic region by identifying habitat areas within the Chesapeake Bay estuary, describing migratory connections between the Bay and other parts of the coast, and using this information to predict how coastal shark movements might respond to large-scale environmental changes.
Description
The U.S. Atlantic Coast is one of the global hotspots of shark and ray biodiversity. These ancient species play critical roles in sustaining healthy marine and estuarine ecosystems, but many aspects of their ecology remain to be discovered. Our lab is working to understand the diversity of shark and ray movement and habitat use behavior using animal telemetry technology to track the habitats of multiple species. As the largest estuarine ecosystem in the United States, the Chesapeake Bay and surrounding Atlantic Ocean waters contain a wide variety of potential shark habitats. Tracking sharks within and outside the Bay will allow us to answer the following questions:
How do coastal sharks make use of habitats within the Chesapeake Bay and adjacent continental shelf, and divide or share these habitats between species
Where else do sharks tagged in or near the Chesapeake Bay travel to over the course of their annual migrations
Can we use this information to predict how coastal shark movements, habitat selection, and interactions with other species might be affected by climate change and other large-scale environmental shift
Our target species occur regularly in the Chesapeake Bay region and fulfill a variety of ecological roles, but much of the basic information about their movement ecology within the estuary and beyond is still unknown.  These species include bull sharks capable of moving into brackish and freshwater habitats, blacktip sharks that form packs to attack schools of pelagic fish, slow-growing dusky sharks that are vulnerable to extinction, and smooth dogfish that feed on crustaceans and support a commercial fishery.
For more information on the sharks we'll be tracking, see the species profiles below.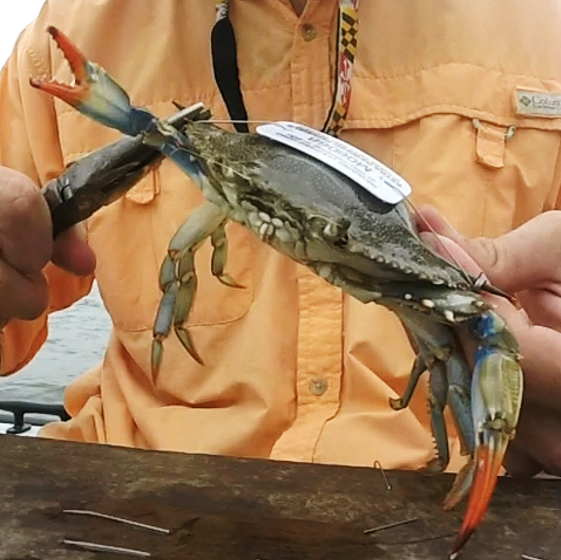 Blue Crab Spawning Migration
Every summer, blue crabs migrate north in the Chesapeake Bay to spawn.  Once females have spawned, which they only do once in their lifetime, they migrate back down to the lower Bay area to lay their eggs.  Our lab is using a combination of mark-recapture and shell-chemistry analysis to learn more about which nurseries these female crabs are coming from.  The best way to help sustain a healthy abundance of blue crabs is to protect the spawning females.  What we learn from this study may help managers target their efforts.
Cownose Ray Habitat Use and Migration
Video edit by Cosette Larash and Claire Mueller
Cownose Rays are a native, migratory species of eagle ray that visit the Chesapeake Bay from May to October.  Little is known about their behavior within the Bay and about their migration habits along the US Atlantic coast.  With the help of acoustic telemetry, we are learning how these creatures use coastal habitats and whether they are part of a local, regional, or coast-wide population.  This information, in turn, will help inform management of Cownose Ray populations.
Early results are showing that Cownose Rays tagged during summer in Chesapeake Bay spend the winter along the Atlantic Coast of Florida. When they return to the bay the following summer, they often return to the exact same location where they were tagged. The map below shows the first full annual migration track for a Cownose Ray from Chesapeake Bay. The ray was tagged with an acoustic tag and data were obtained from researchers participating in the Atlantic Cooperative Telemetry Network.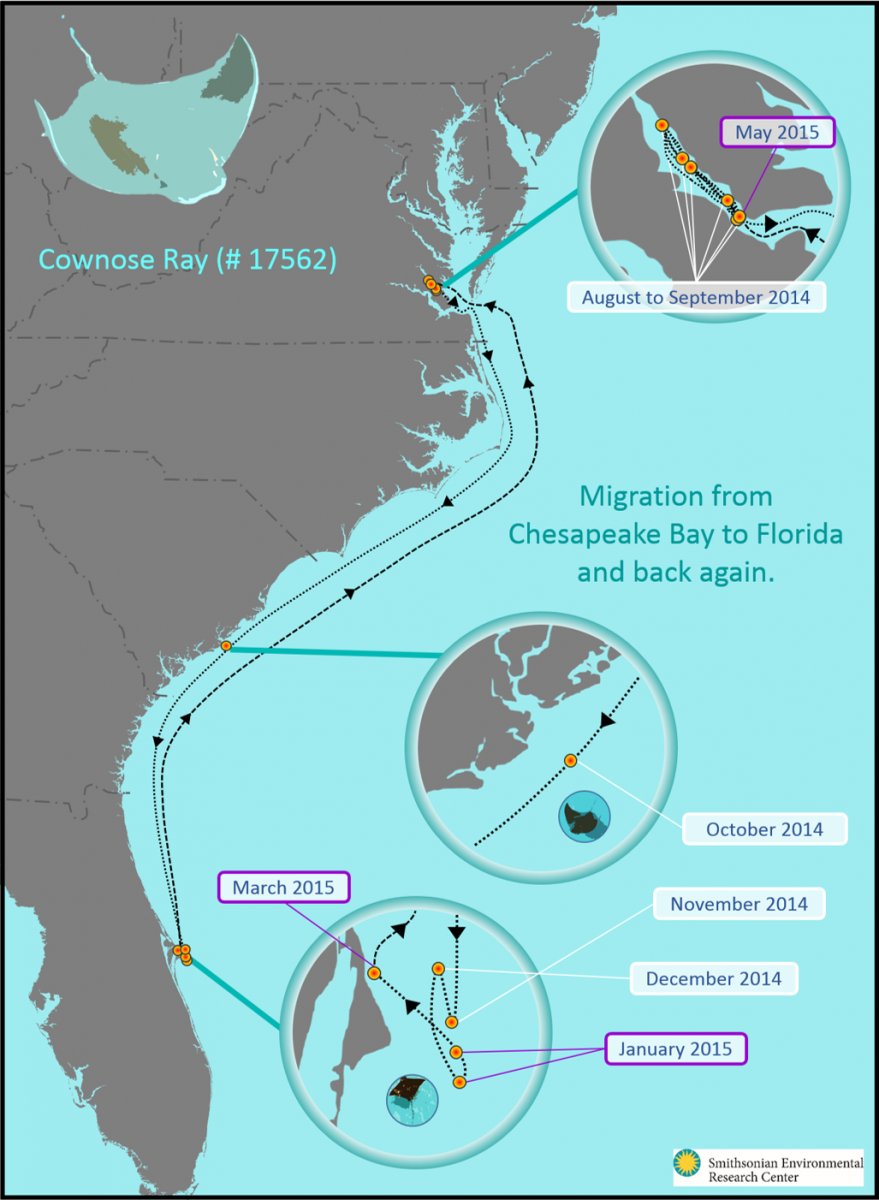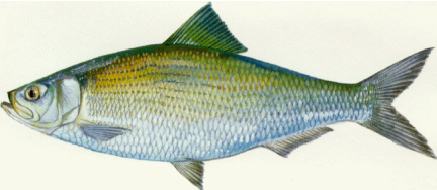 River Herring Spawning Migrations
River herring are anadromous species of fish, meaning that they live  much of their life in the ocean, but then migrate to freshwater to spawn.  These two species, Alewife Alosa pseudoharengus and Blueback Herring Alosa aestivalis are migratory fish used to be among the most abundant fish in the Chesapeake Bay, but in the past few decades their populations have declined over 90% due to habitat loss, overfishing, and other causes.  Our lab is studying the spawning migrations of the river herring populations that visit the Chesapeake Bay tributaries every spring. These studies include using PIT tagging to track individual fish movements within a river system. Tracking movements helps us learn how long individual fish spend on the spawning grounds, whether they return to the same sites each year, and what the survival rate is from year to year.
Interested in learning more about about the Conservation of River Herring Spawning Runs? Click here!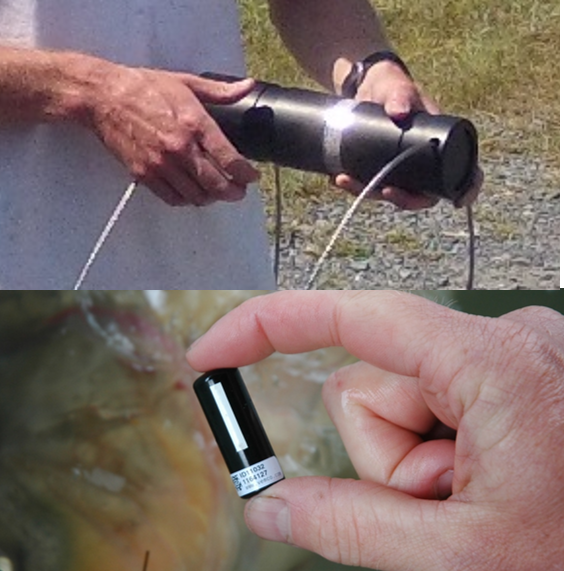 SERC Acoustic Receiver Arrays
One method of studying aquatic animal movement, including behavior and migration, is through the use of acoustic telemetry.  Acoustic telemetry involves the implantation of acoustic transmitters into individual animals or attaching transmitters externally.  The sound signal produced by the transmitters can then be picked up by stationary acoustic receivers (hydrophones or underwater microphones) that are positioned strategically to detect the tags.  SERC maintains arrays of receivers in the Rhode and Patuxent Rivers that we monitor and use to help track species such as cownose rays, blue catfish, and common carp.