Research Project

Blue Crab and the Fishery
Project Goal
The goal of this interdisciplinary project is to explore blue crab biology and ecology in support of sustainable fisheries management.
Description
The blue crab (Callinectes sapidus) is one of the Chesapeake Bay's most iconic species and is highly valued for its role in Maryland's culture and economy. Its fishery is regularly ranked as one of the top 10 most valuable commercial fisheries in the U.S. It's one of the more complex fisheries with multiple management jurisdictions, recreational and commercial harvests, regional and season variation in fishing gear and effort, and a variety of markets. Just as complex is the blue crab's life history that includes age-specific habitat use and migration, female spawning migration, and larval and juvenile migration between the Chesapeake Bay and the ocean. Because of the complex nature of biology, ecology and fisheries management of blue crabs, sustainable management has been challenging.
Our lab studies a variety of blue crab research questions, including:
What habitats are essential for sustaining healthy blue crab populations
How, when and why do blue crabs move among habitats for foraging, mating, molting and completing the female spawning migration
How does fishing vary in space and time, and what does that mean for blue crab populations
Could targeted harvest of males lead to sperm limitation and reductions in reproductive output
What fishery management strategies are most likely to resulting in sustainable, productive fisheries
Is stock enhancement a viable option for rebuilding blue crab populations
What can archaeological samples tell us about how crab fisheries and populations have changed through time
Report Tagged Crabs for Reward
Every blue crab that is caught with a pink or white tag is eligible for a $5 or $50 reward, and an extra reward if a white-tagged female is kept, frozen, and returned to us (note: in MD, female crabs are only allowed to be kept by commercial watermen). Please call (443) 482-2263 to report any crab tags.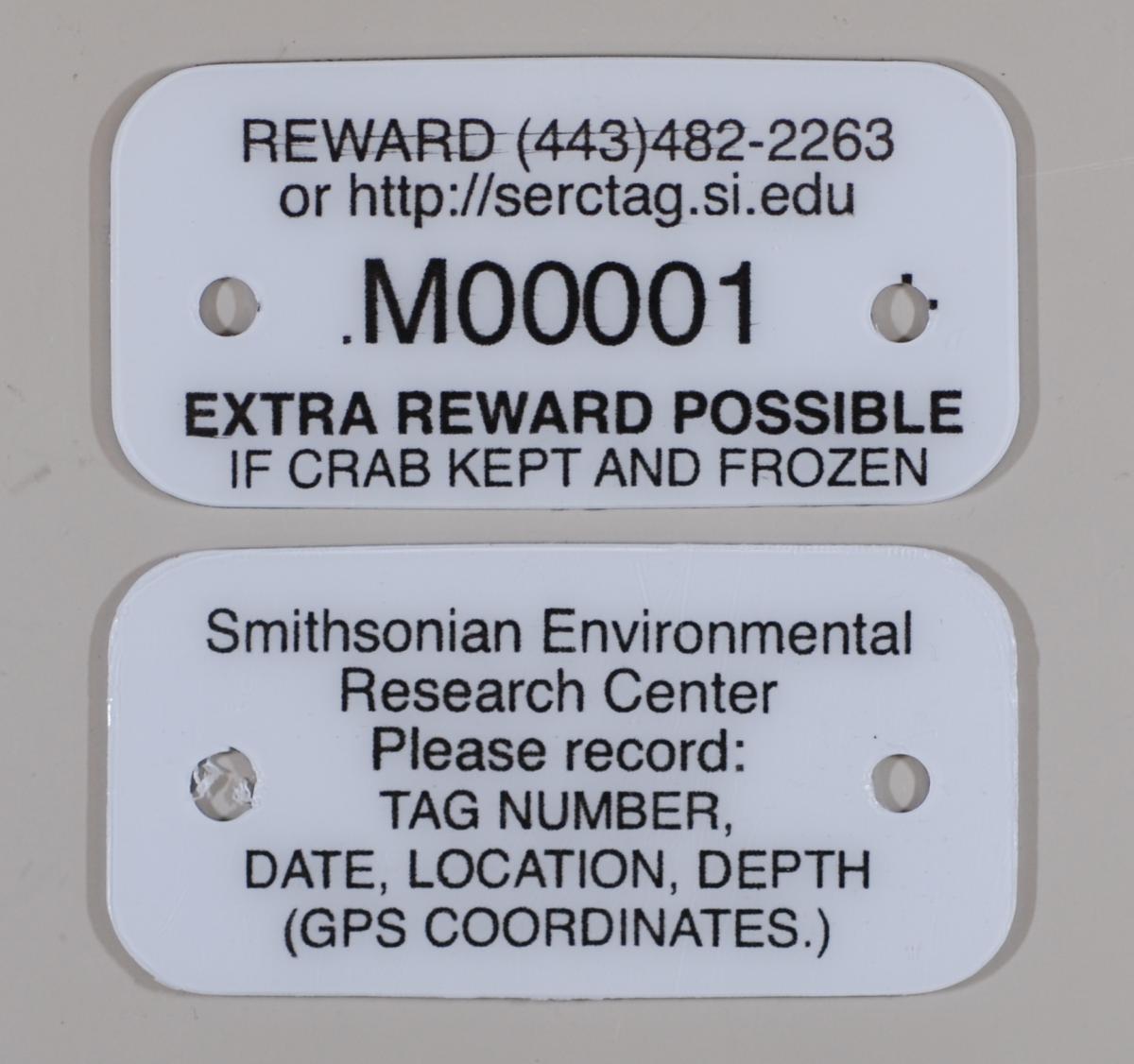 The Chesapeake's beloved blue crabs entered a downward spiral in the 1990s that lasted almost two decades. Now they've started showing signs of recovery. But what will it take to ensure that blue crab numbers remain healthy for generations to come? Marine biologists at the Smithsonian have been tracking blue crabs on the Chesapeake since the 1970s. Tuck Hines, director and blue crab guru at the Smithsonian Environmental Research Center in Edgewater, Md., takes TV host Josh Bernstein for a trip on the Rhode River to show him how it's done
Marine biologist Tuck Hines and a local Chesapeake crabber narrate the fall of the blue crab, and what may be the start of a recovery.