Virginia Working Landscapes: Connecting with Communities to Inform Research and Conservation
Tuesday, Jul 18, 2023 -

7:00pm

-

8:30pm
Advance Registration Required
Yes
Event Details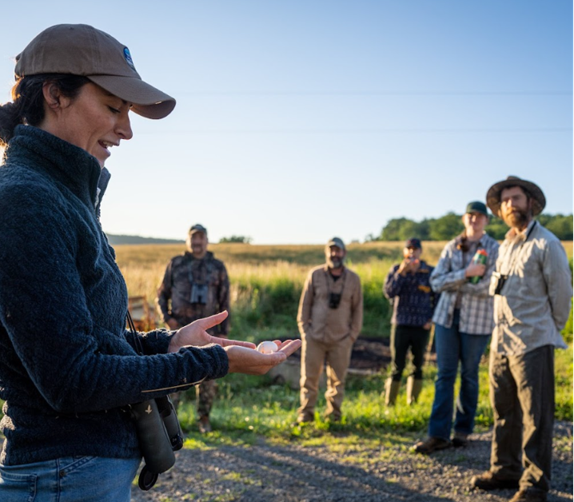 Smithsonian's Virginia Working Landscapes (VWL) program aims to study and promote the conservation of native biodiversity and sustainable land management through research, education, and community engagement. In collaboration with other Smithsonian units, as well as landowners, producers, federal and state agencies, universities, and local NGO's, VWL conducts applied research at the intersection of conservation, agriculture, and communities. Areas of focus include grassland community ecology, avian migratory connectivity, human dimensions of conservation, and restoration ecology with an emphasis on working agricultural lands. This presentation will provide an overview of past and current research projects with case studies demonstrating how VWL is working with community partners to co-develop programs that bridge the gap between science and conservation implementation.
Dr. Amy Johnson is a Conservation Biologist at the Smithsonian's National Zoo and Conservation Biology Institute and Director of their Virginia Working Landscapes program. In this role, Johnson leads a team that cultivates a dynamic network of private landowners, community scientists, NGO's, state agencies and scientists to collectively investigate the impacts of conservation management and land use on biodiversity. VWL research activities occur almost entirely on privately-owned working lands, demonstrating the importance of multi-faceted collaborations for acquiring the knowledge needed to move conservation forward in human-dominated landscapes. Johnson's current research focuses on identifying best practices to support nesting grassland birds, ecological responses to grassland restoration and management, and the human dimensions of conservation. In addition to research, she and her team are committed to developing effective outreach strategies that communicate research findings to inform best management practices for regional conservation partners and land managers.
This webinar will be recorded! Closed captioning will be available on both the live event and on the recording. By signing up on Zoom, you'll be able to join live and receive a link to the recording approximately one week after it airs.
Sign up on Zoom to watch live or on demand