Environmental Literacy: Marine Ecology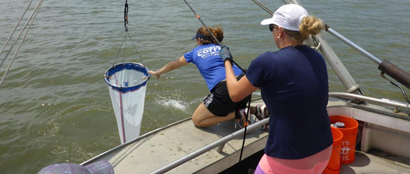 Scientists at SERC are studying how humans impact the land and water, this includes the life that lives in the water (plankton) and the animals that live there too, from oysters and mud crabs to river otters. Let us introduce your students to the superpowers of plankton and river otter food webs. Soon we'll be adding more programs about oysters and blue crabs too!
Introduction to Plankton Interactive Program
Grades: Adaptable for 3rd-8th
Duration: 1 hour, with customizable USB microscope addition
Have you ever thought of plankton as the superheroes of Earth? They are, and in this superhero themed interactive program we will explore the world of phytoplankton, zooplankton, and their importance to life on the Chesapeake Bay and our planet.
We also offer a customizable option if you would like to purchase USB microscopes for your class. We can recommend the type for Chromebooks, Macs, and PCs, and we can walk your class through how to use them. This requires 1 additional hour, and each microscope costs roughly $22 online.
Marine Ecology: Introduction to SERC Research & Careers in Science
Grades: Adaptable for 6th-Adult
Duration: 1 hour
SERC has over 22 research laboratories, 100 people, and 2,600 acres of land. We are the world leader in research related to climate change, wetlands, and the land-sea connection. We'll share with you our diverse range of research, up to date findings, and resources where you can find more about what we do. We can also customize the program to talk about different types of jobs and careers in science.
Marine Ecology: Otter Scat Dissection for the Classroom
Grades: Adaptable for 3rd-8th
Duration: 1 hour
Scat analysis offers our SERC scientists a window in the food webs of the Chesapeake Bay, using the remains found in otter poo. In this class, we'll learn about otter diets, how to use fish scales like fingerprints, and then our educator will dissect a cleaned and dried poo sample live with students and discuss what we find. For an additional fee, we can also send you a sample for your classroom ($5 a class, plus $5 shipping, or a vial/sample for each student which is $10/class of 30, plus $5 shipping for a set). All samples are washed, sanitized, and baked clean.
**This class is also offered as part of our "One Health Program" and the Chesapeake Bay Otter Alliance project.
Marine Ecology: Introduction to Terrapins & Visit With a Live Terrapin
Grades: Adaptable for 2nd-6th
Duration: 1 hour
Terrapins are an important part of the history and ecology of the Chesapeake Bay. In this program, we'll talk about terrapin anatomy and adaptations to live in brackish water, the only turtle to do so. For younger students, we'll read a story book after, and for older students, we'll work on aging a turtle using scute rings, understanding shell anatomy, and talk more in depth about food webs.