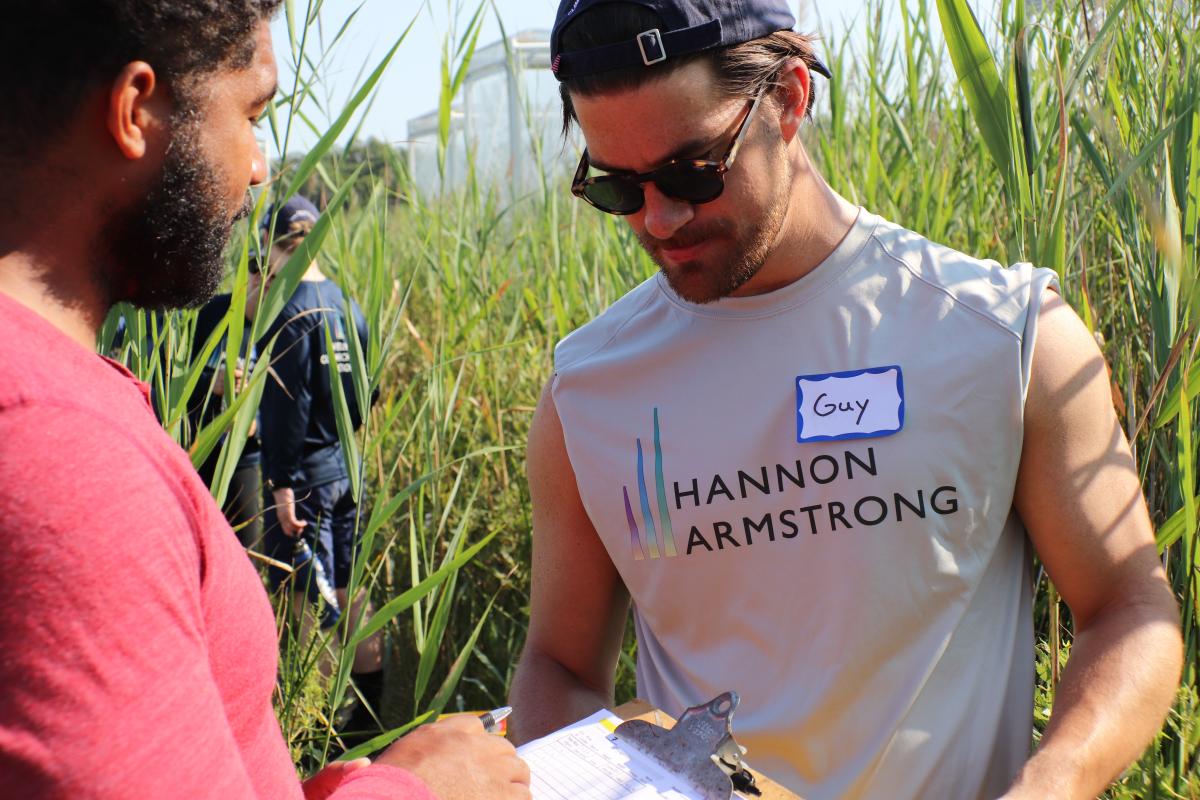 Maryland stands on the front lines of climate change, with over 3,000 miles of tidal shoreline and nuisance flooding on the rise. This May, Annapolis-based finance company Hannon Armstrong reaffirmed its commitment to building a more sustainable future as a Corporate Leader with the Smithsonian Environmental Research Center (SERC).
At SERC, scientists have been studying the Chesapeake Bay for more than 50 years. In addition to gathering data about fisheries, climate change and other vital bay issues, SERC also works to engage the community and promote environmental literacy. The new Corporate Leaders Program recognizes businesses throughout the Chesapeake with similar goals who take an added step to support SERC.
For Hannon Armstrong, investing in the environment forms the core of their mission. When they launched their initial public offering in 2013 (NYSE: HASI), they became the first public company in the U.S. to focus exclusively on investments that reduce carbon emissions or increase resilience to climate change. Last year, the company invested $1.2 billion in renewable energy, energy efficiency and other sustainability projects, which they estimate will save nearly half a million metric tons of carbon dioxide emissions per year. Their investments also saved 1.6 billion cumulative gallons of water in 2018, roughly equivalent to eliminating water consumption in 14,000 U.S. households.
"We're pleased to have Hannon Armstrong as part of our new Corporate Leaders team," said SERC Director Anson Hines. "They're actively developing financing for green technology and finding affordable solutions to climate change."
Corporate Leaders commit to donating at least $2,500 annually to SERC's research and education programs. As members, Hannon Armstrong staff will be able to get cutting-edge research analysis from SERC scientists, network with other environmentally conscious business leaders, engage their employees in active research projects and participate in broader Smithsonian corporate events. SERC launched the Corporate Leaders Program in May 2019. To join or learn more, contact Cole Johnson at johnsonc@si.edu or 443-482-2323.
About Hannon Armstrong
Hannon Armstrong is the first U.S. public company exclusively committed to financing solutions to climate change. Based in Annapolis, Maryland, Hannon Armstrong focuses on ways to reduce carbon emissions and increase resilience to climate change by providing capital and specialized expertise to the leading companies in the energy efficiency, renewable energy and other sustainable infrastructure markets. Its goal is to generate attractive returns for shareholders by investing in a diversified portfolio of assets and projects that generate long-term, recurring and predictable cash flows or cost savings from proven commercial technologies. For more information, visit hannonarmstrong.com.
About the Smithsonian Environmental Research Center
The Smithsonian Environmental Research Center (SERC) provides science-based knowledge to meet the environmental challenges of the 21st century. Headquartered on the shores of Chesapeake Bay in Edgewater, Maryland, SERC scientists and students lead research on coastal ecosystems around the world. The data they collect help inform decisions for wise policies, best business practices and a sustainable planet. For more information, visit serc.si.edu.