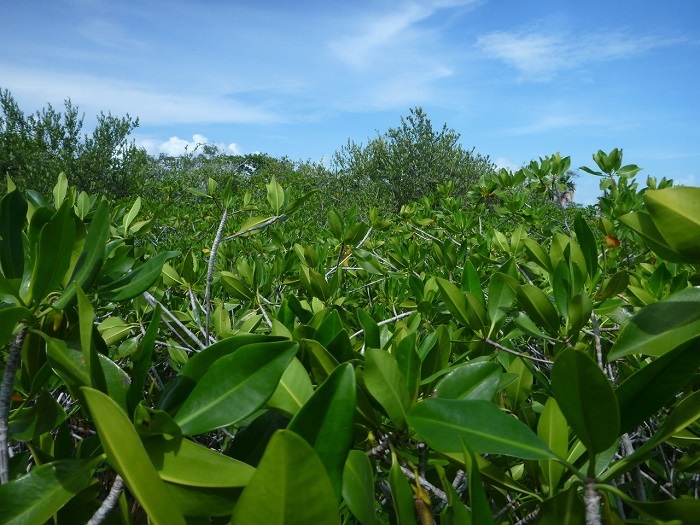 Researchers from the Smithsonian Environmental Research Center (SERC) recently published a study in the journal Science of the Total Environment introducing the first national estimate of mangrove carbon stocks in Belize. These findings are the first data released from the Belize Blue Carbon project, an international effort to develop nationwide mangrove datasets to understand implications for climate change mitigation and adaptation.
Blue carbon—carbon stored in marine and coastal ecosystems—is extremely important in the fight against climate change. Mangroves, types of plants that grow in coastal waters, are among the most ecologically valuable marine ecosystems in the world. One of their most important services is taking carbon out of the atmosphere and storing it below ground in their root system and the surrounding soil. It is estimated that mangroves store 12 billion metric tons of carbon worldwide. When these systems are damaged, they emit their stored carbon back into the atmosphere, where it contributes to climate change.
While mangroves have long been recognized as important nature-based solutions for long-term carbon storage, many countries still lack local data on carbon stocks and instead rely on global or regional averages, which can significantly over- or underestimate their stock evaluations. This is of special concern because under the Paris Agreement, signatory countries are responsible for producing plans, termed nationally determined contributions (NDCs), on how they will reduce their carbon emissions. Larger scale averages might not represent the actual amount of carbon stored within the mangrove ecosystems of that country.
The Belize Blue Carbon project team worked collaboratively to build local capacity and share knowledge to fill gaps around carbon storage in Belize's mangroves. In September 2021, the team sampled a broad range of mangrove ecotypes across Belize to estimate their carbon stocks. The team combined the data they collected with data from a recent mapping effort to create Belize's first national comprehensive mangrove carbon stock estimate. The almost 58,000 hectares of mangroves in Belize were found to hold 25.7 million metric tons of carbon. The team found that their total carbon estimate varied greatly from estimates derived from global or regional averages, highlighting the need for similar localized work in other countries.
The team also worked with stakeholders at all levels, including governments, non-governmental organizations, academic institutions and local scientists, to share knowledge in standardized blue carbon sampling methods, create pathways for data sharing and collaborate on the expansion of new efforts. In addition to SERC, key project partners included the University of Belize Environmental Research Institute, the Pew Charitable Trusts, Silvestrum Climate Associates, World Wildlife Fund, Belize Fisheries Department, Belize Forest Department, National Climate Change Office, Coastal Zone Management Authority & Institute, Toledo Institute for Development and Environment, Sarteneja Alliance for Conservation and Development, the Corozal Sustainable Future Initiative, and the Turneffe Atoll Sustainability Association.
"A collaborative project of this magnitude and unique holistic nature has set the baseline for future blue carbon research," said SERC scientist Hannah Morrissette. "The results from this assessment show how different mangrove ecosystems can be from one another in a relatively small area and highlights their importance to national climate change mitigation goals."
"Working together with the diverse partners on this project was a magnificent experience," said Ninon Martinez, Marine Program Manager with University of Belize's Environmental Research Institute. "We all learned a lot from each other, being from different parts of the country and world and all having unique backgrounds in field work, policy, management, science et cetera. This effort segued to several other partnerships and plans for research in Belize, so we hope to keep the momentum going."
"This first-time comprehensive carbon assessment for Belize's mangrove forests is undeniably significant, advancing both the scientific baseline for mangroves and local research capacity," said Stacy Baez, senior officer with The Pew Charitable Trusts' protecting coastal wetlands and coral reefs campaign. "The project also serves as a science-to-policy model for other countries seeking to include the protection of coastal wetlands into climate policies like the NDC."
"This country-level carbon stock assessment is essential for providing policy-relevant values that reflect the diversity of mangrove ecosystems found along the coasts and islands of Belize" said Silvestrum Climate Associates coastal ecologist Lisa Beers.
The team's work provides a management and monitoring guide for the country's mangroves. "Belize's recently updated NDC calls for enhancement of the capacity of the nation's mangrove ecosystems to act as a carbon sink," said Nadia Bood, senior program officer, Marine Science and Climate Change with WWF-Mesoamerica. "The World Wildlife Fund was pleased to contribute to the findings from this innovative research for Belize, providing the baseline dataset for not only understanding the country's mangrove storage potential but to be able to track carbon sink over time and scale."
Other countries may use the model created here to build support for the conservation of blue carbon sinks. The information gained from the Belize Blue Carbon Project will be used to inform Belizean coastal policy and management as conservation activities are increased to protect these invaluable ecosystems and reach climate targets.