2018 Lectures: Inspiring Bay Optimism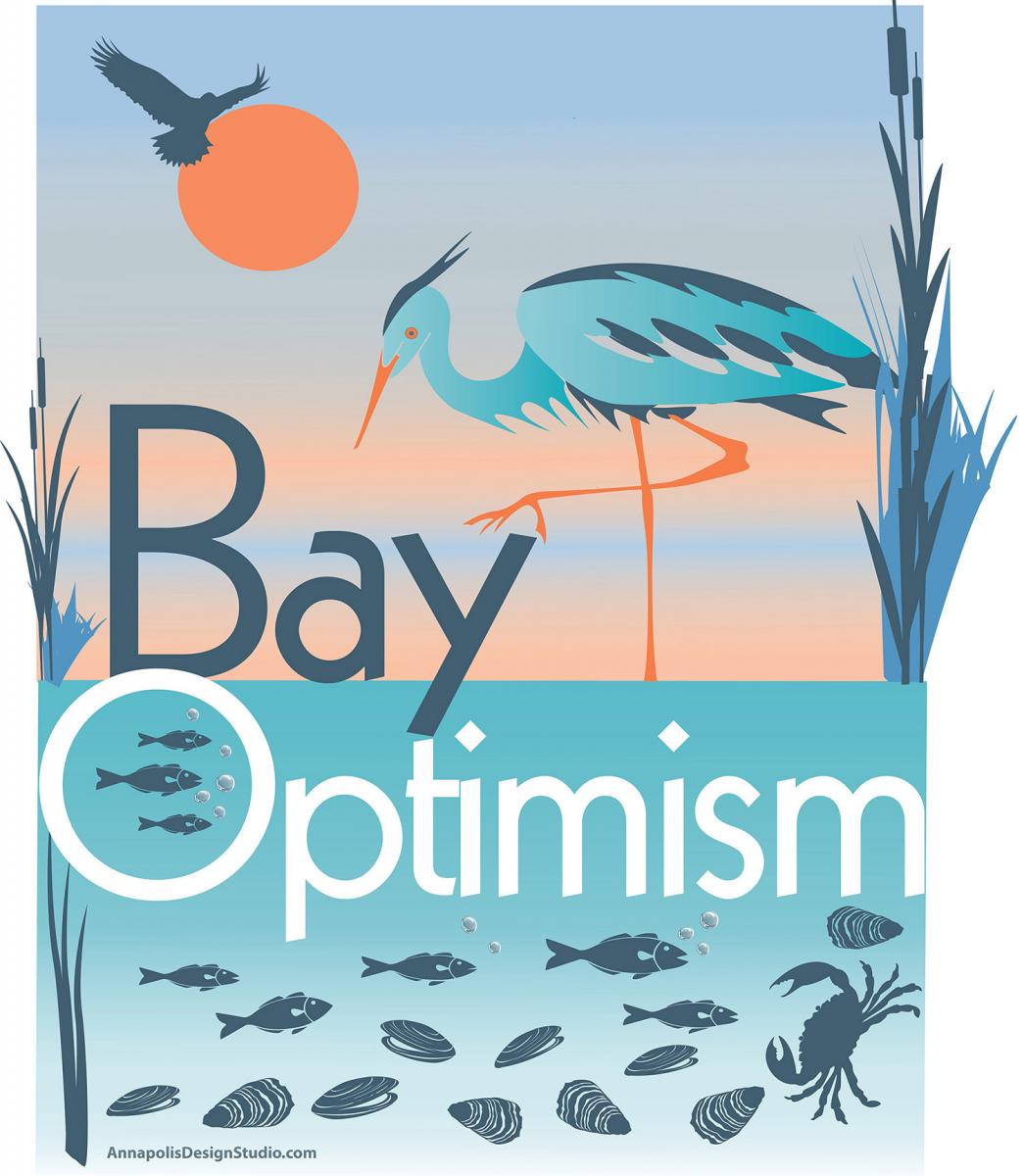 Become a Bay Optimist this year! Join us every third Tuesday of the month at 7pm, March through October, for an evening of science and lively discussion. Discover environmental and conservation success stories from around the Chesapeake, and learn how we can make more of them become realities. Lectures are free; donations are appreciated. No advance registration necessary—a curious mind is the only requirement!
Time: 7pm (light refreshments at 6:30)
Place: Schmidt Conference Center (directions)
The Restoration of Poplar Island
Tuesday, March 20, 7-8pm
Speaker: Rachael Gilde, Maryland Environmental Service
How does an island in Chesapeake Bay go from 1,140 acres to less than 5 acres, and then rebound to 1,140 acres again? In this talk, environmental specialist Rachael Gilde will describe how the placement of dredged material is restoring a once-disappearing island to a unique and thriving wildlife habitat within Chesapeake Bay. Come and learn more about the process and the environmental benefits of the Poplar Island project. 
Protecting Pollinators: A Natural History Approach
Tuesday, April 17, 7-8pm
Speaker: Gary Krupnick, Smithsonian National Museum of Natural History
Pollinators like bees and butterflies are critical to our nation's economy, food security, and environmental health. But many pollinators are in serious decline. In this talk, Smithsonian botanist Gary Krupnick will provide insight into current efforts at reducing the continued loss of pollinator populations. He will also highlight the development of a national strategy that government agencies and private organizations are currently implementing to rescue them from the brink.
Clean Water, Healthy Habitats: Accelerating Wetland Restoration in the Bay
Tuesday, May 15, 7-8pm
Speaker: Amy Jacobs, The Nature Conservancy
The Nature Conservancy, teaming up with federal, state, and local partners, has restored and enhanced over 2,000 acres of wetlands in the Pocomoke River Watershed in the last 5 years. In this talk, Amy Jacobs will highlight how the Conservancy is working with farmers to restore habitat and keep nutrients out of the Bay with wetland restoration. Jacobs will provide an overview of the restoration process, the benefits of restoration to meet water quality and habitat goals, and what we have learned to be more effective in future efforts.  
Tracking the Bay's Cownose Rays
Tuesday, June 19, 7-8pm
Speaker: Matt Ogburn, Smithsonian Environmental Research Center
Beautiful but mysterious, cownose rays have inspired both wonder and controversy in Chesapeake Bay. For the last four years, ecologist Matt Ogburn and SERC's Fish & Invertebrate Ecology Lab have tracked ray migrations along the Atlantic Coast as part of the Smithsonian's Movement of Life Initiative. Discover the biology of these often-misunderstood creatures, how scientists are using sound to follow their journeys, and how new discoveries might inform management of ray fisheries.
Jellyfish in the Chesapeake: The Creatures We Love to Hate
Tuesday, July 17, 7-8pm
Speaker: Denise Breitburg, Smithsonian Environmental Research Center
Jellyfish are beautiful to watch and fascinating to study, but they keep us from swimming in the hottest part of the Chesapeake summer. They are "tough" creatures that can survive in habitats that fish can't use, but are also delicate animals that lack a skeleton and a brain. Find out more about these interesting creatures and their role in the Chesapeake ecosystem, with Smithsonian marine ecologist Denise Breitburg.
Grassroots Activism Meets Grassroots Science
Tuesday, August 21, 7-8pm
Speaker: Fred Tutman, Patuxent Riverkeeper
The Patuxent Riverkeeper is a watershed advocacy organization and veteran of some 15 years of legal and grassroots activism. In this talk, Riverkeeper Fred Tutman will discuss what both science and experience have taught us about protecting and restoring the Patuxent, Maryland's longest and deepest tributary of the Chesapeake Bay. It is a story of the Bernie Fowler movement of the 1970s, citizen-led legislation in the 1980s, attempts by polluters to silence advocates through lawsuits, environmental justice cases and judicial awards that have broken a few state records. Fred is the longest-serving waterkeeper in the Chesapeake Bay region and the only African-American waterkeeper in the continental U.S.
Dolphins in the Chesapeake Bay
Tuesday, September 18, 7-8pm
Speaker: Helen Bailey, University of Maryland Center for Environmental Science
Little is known about how often dolphins come into Chesapeake Bay, how long they spend here, what areas they're using and why. Yet marine biologist Helen Bailey and her team frequently detect dolphin calls in the Bay, and last year citizen scientists reported more than 900 dolphin sightings on Helen's newly launched Chesapeake DolphinWatch website. In this talk, Helen will highlight what she has learned about the Bay's dolphins so far and show how you can participate in this research effort.
Rhode to Globe: SERC Science Changing the Chesapeake and the World
Tuesday, Oct. 16, 7-8pm
Speaker: Anson "Tuck" Hines, director of the Smithsonian Environmental Research Center
Join us for a special finale lecture in our green Mathias Lab! Explore the impacts of SERC science around the world, with SERC director and blue crab scientist Tuck Hines, and discover how science on the Chesapeake is enhancing science and conservation worldwide. Pre-lecture dessert reception at 6:30.