Grades 3-8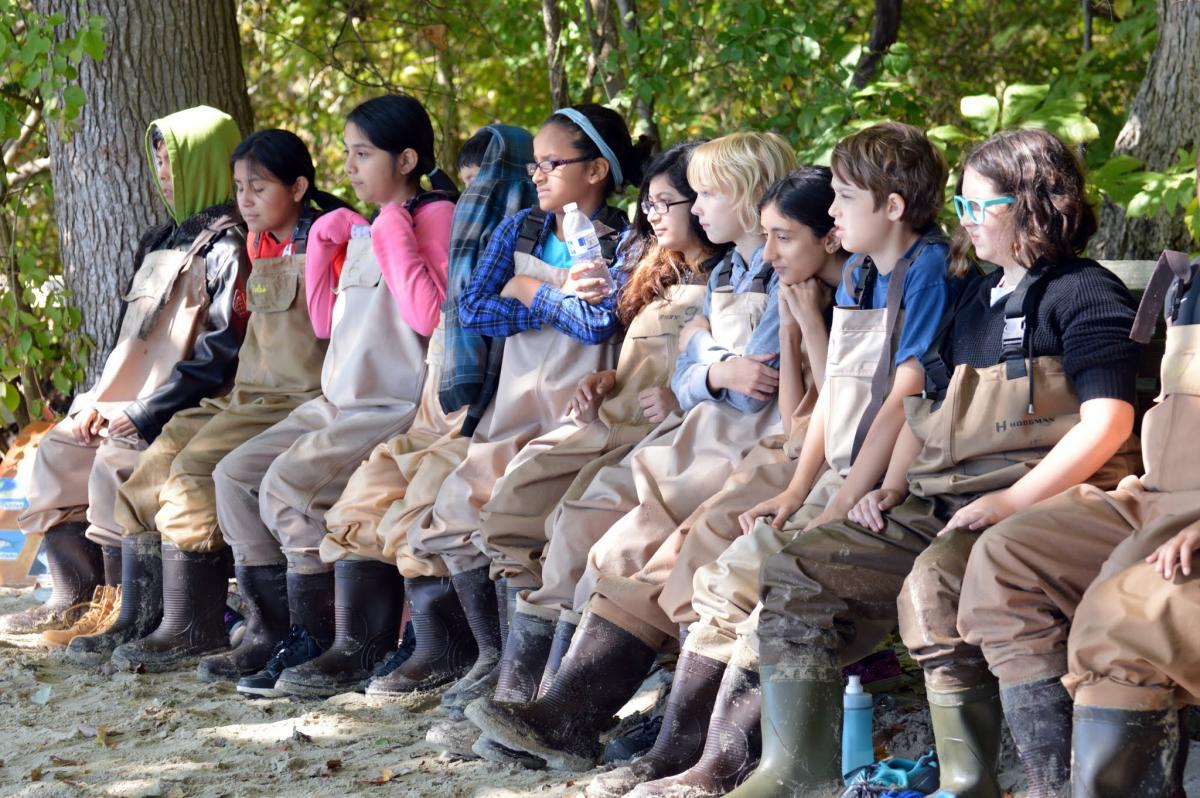 Field trips for students in grades 3-8 are designed to be hands-on and inquiry-based in our outdoor classrooms and microscope laboratory. All lessons align with Next Generation Science Standards (NGSS) and correspond with SERC research and laboratories.
Our primary program is called "Shoreline Connections" (formerly Estuary Chesapeake) and consists of four activity stations (you can do less than four if time does not permit): water testing, plankton, seining and oysters. For this activity students are tasked with answering questions like "What is water quality and how does it affect life in the Bay?" Each station focuses on key vocabulary words (e.g. water quality, bio-indicators, habitat, dissolved oxygen) to help them answer activity questions. They learn the meaning of the word and its relationship to the main question though hands-on activities that model what SERC researchers do (e.g. seining, running water tests, sorting benthic invertebrates, using a microscope to look at plankton ). We adapt content and activities to be grade appropriate and include questions relating to good ecological citizenship and stewardship.
Our other field trip programs include:
Guided Canoe Trip

In this activity students will explore Muddy Creek and the Rhode River with one of our guides. Along the way we'll look for local wildlife and discuss SERC research. Basic paddling instruction and life jackets are included. 

Guided Trail Hike

In this activity students are joined by a guide for an exciting 1.5 mile round trip hike to Hog Island. On this hike we'll walk along scenic shorelines, get a bird's eye view of a marsh ecosystem from our marsh boardwalks and explore the secret life within our wooded trails. Along the way we'll look for local wildlife, discuss SERC research and visit the fish and invertebrate research station.

Engineering a Blue Crab

In this activity we'll study the anatomy of blue crabs, learn how blue crabs use hydraulics to move after molting and how this relates to pneumatics (movement via air compression). We also investigate biomimicry and challenge students to engineer a functional blue crab arm that moves objects. To do this you'll create engineering-inspired schematics to design and build a blue crab arm using simple materials.
If you have any questions, please contact Karen McDonald.
When you bring a group to SERC for a field trip, we want to make sure that you have the best experience possible. To help you with this, here are some resources for planning your field trip, including things to do before you arrive and how to prepare your students.
Expectations
Prepare for weather
Consider commute time and traffic
Provide payment in full upon arrival or have arranged to remit payment within 10 days of field trip
Dividing the Group
Students: dependent on program activity (see downloadable PDF for instructions)
Chaperones

Grades 3-12: 1 adult per 10 students
Special Education: 1 adult per 5 students
Canoe trips require additional chaperones (see downloadable PDF for instructions)
Clothing (Students and Chaperones)
Prepare for weather
Closed shoes (toe and heel)

No crocs, flip flops, etc.

Change of clothes
Light jacket or raincoat (if needed)
Sunscreen, allergy and other medications
If anyone has known allergies (e.g. shellfish), please be sure to let SERC staff know at the beginning of the day
Food and Beverages
Water bottle
Lunch (food is not available at SERC)
When you bring a group to SERC for a field trip, we want to make sure that you have the best experience possible. To do this, we need your help. Please follow these short expectations:
Active participation during the program

Remain with your assigned student group at all times

Model kind behavior towards all animals

Limit phone calls and texts

Limit photos to before and after program

Wear name tags (students and chaperones)

Abide the maximum speed limit of 15mph on SERC's campus

Most activities are our outdoors

You may get wet

You may get dirty

You may be exposed to the sun and elements (e.g. rain, wind, etc.).

Closed shoes (toe and heel)

No crocs, flip flops, high heels, etc.
Please check back soon for information regarding field trip related activities that you can incorporate into your classroom lesson plans.