Chesapeake Bay Otter Alliance
Chesapeake Bay Otter Alliance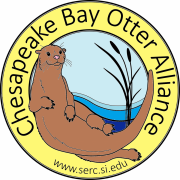 The Chesapeake Bay Otter Alliance is a group of researchers from across the Smithsonian and local universities, with a goal to study and educate the public about North American River Otters in the Chesapeake Bay. We need your help to figure out where these otters are in the Chesapeake Bay!
Very little to no research has been done regarding the numbers, health, and populations of otters in the Chesapeake Bay. We need your help in creating a map of sightings, tracking their behavior, and scat sightings. If you would like to help, please click on the sidebar to "Get Involved."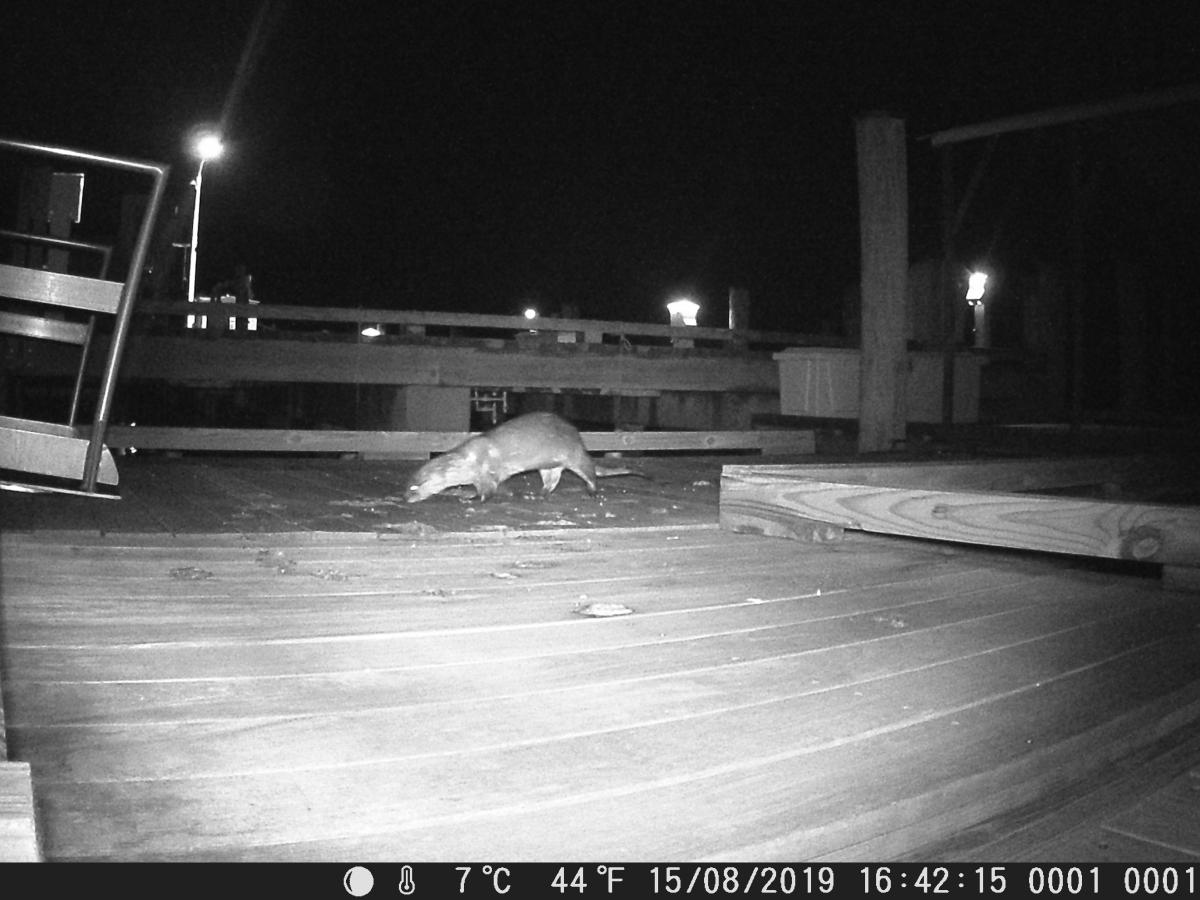 The "What" and the "Why"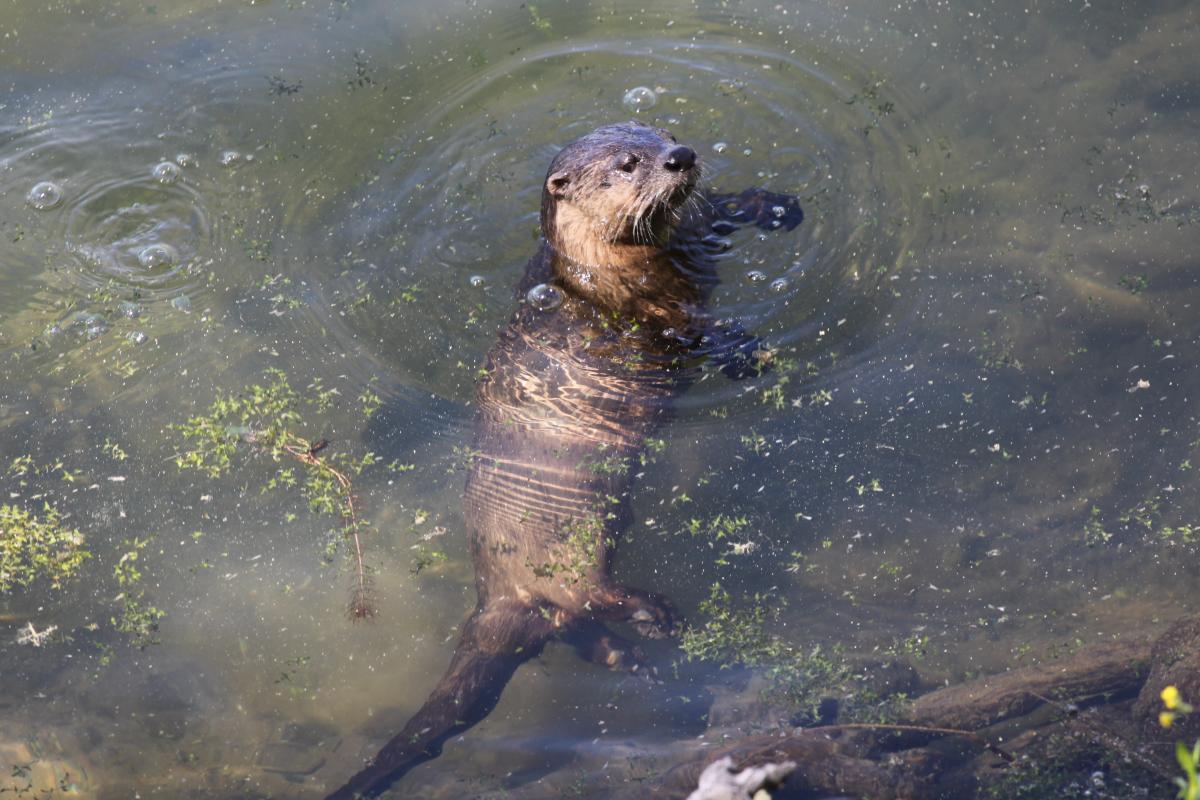 Why are researchers at the Smithsonian Environmental Research Center (SERC) interested in studying river otters?
North American River otters (Lontra candadensis) are the only species of otter found in the Chesapeake Bay.  They have never been studied in detail and little is known about how many there are, their diet, distribution, and the effects that humans have on the Bay populations. River otters are special because they are semi-aquatic, meaning they live life on both land and water. They need clean watersheds to thrive, and can potentially be an indicator species of water health. Scientists at SERC want to understand how the otter fits into the Bay's food web, what the otters are eating, how otters are affected by parasites, toxins, and pollutants in the environment.
The goal of our research is to develop a Chesapeake Bay Otter Alliance, or a coalition of researchers and citizen scientists from across the Smithsonian, local universities, and the Chesapeake Bay to study and educate the public about North American River otters in the Chesapeake Bay.
We are developing the Chesapeake Bay Otter Alliance (CBOA), including experts in river otter ecology (Thomas Serfass, Kelly Pearce) and genomics (Klaus Koepfli), parasite and disease ecology (Katrina Lohan, Anna Phillips), fisheries and estuarine ecology (Matthew Ogburn), veterinary medicine (Victoria Hall), education (Karen McDonald, SERC Education), and citizen science (Alison Cawood) from SERC, the Smithsonian's National Zoological Park, the Smithsonian's National Museum of Natural History, the Arundel Rivers Federation, Frostburg State University, Allegheny College, and private citizens.
Our specific objectives include: 1) mapping river otter presence and abundance in the Rhode, South, and West Rivers; 2) conducting diet and parasite analyses; 3) developing protocols for citizen science engagement; and 4) generating K-12 curriculum on river otter biology and ecology.
Methods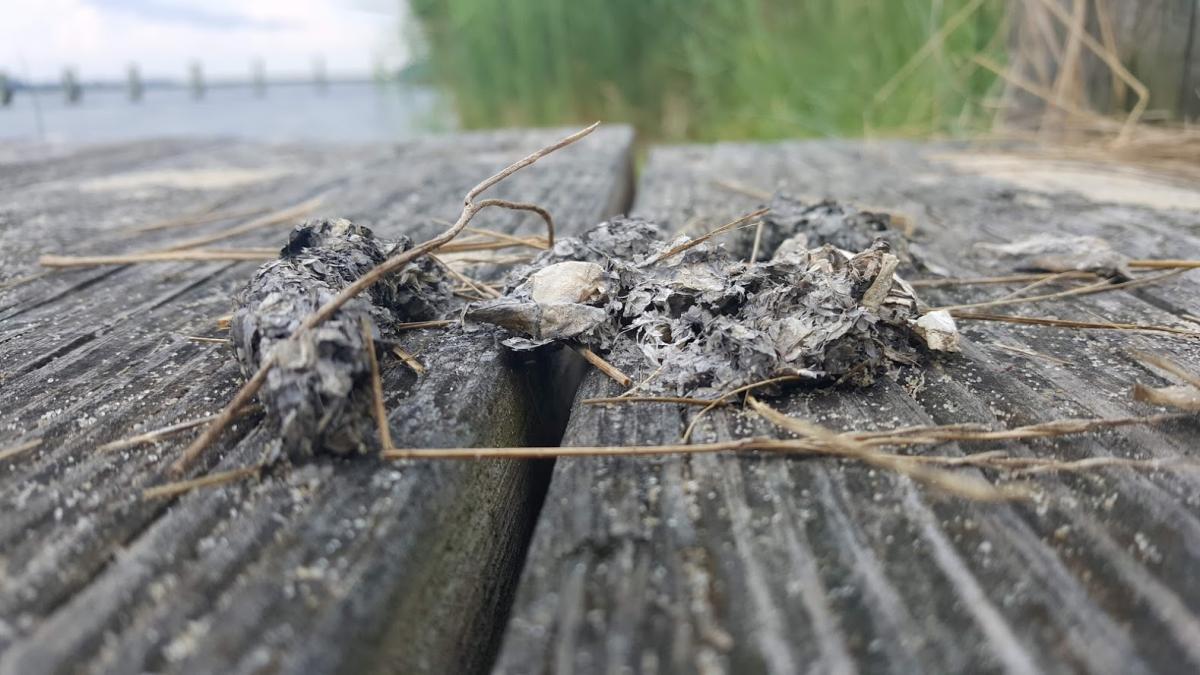 How do you study otters? 
We are partnering with a variety of Smithsonian units, universities, and members of the public. Here's what's going on: 
CHESAPEAKE BAY RIVER OTTER ALLIANCE--OTTER SIGHTING REPORTING

 We are collecting sightings and evidence of river otters in the Chesapeake Bay and you can help. If you've seen a river otter, alive or dead, and would like to help in this pilot project then simply e-mail SERCOutreach@si.edu. 
GAME CAMERA IMAGE COLLECTION

We are also putting out game cameras around the Rhode and South River to collect information about the numbers of otters, their visitation, and behaviors. If you have a game camera and would like to help then e-mail SERCOutreach@si.edu. 
SCAT SCOUTS

Scat is a great way to study the diet of river otters. A single poo is called a "spraint" and many poos in one place are called a "latrine." If you'd like to help us take pictures and note findings of scat you can e-mail SERCOutreach@si.edu. River otter scat looks flaky and is filled with fish scales, crab or crayfish pieces, feathers, or bones. Check out the picture at the top of this page. 
PARASITE ANALYSIS

Our scientist, Dr. Katrina Lohan, is working on understanding the food webs of the Chesapeake Bay from the lens of parasites that move up trophically (this means animals eat eachother and the parasites travel from animal to animal). Dr. Lohan will be collecting otter spraints and using a variety of techniques to separate parasites from the scat to identify what the otter has been eating and how it relates to the health of the Bay. You can find out more here: https://serc.si.edu/research/projects/chesapeake-bay-otter-alliance 
SCAT ANALYSIS

Did you know that you can tell what family a fish is from just by looking at its scales? Our Education team is working on data literacy using otter scales as a tool to help students understand how to collect and analyze data. We do this by collecting, cleaning, and drying otter scat and then looking at the scales and contents using lenses or microscopes. If you're interested in helping then contact SERCOutreach@si.edu. 
Get Involved
Want to help us locate Chesapeake Bay Otters?

You can help us in this pilot study of Chesapeake Bay Otters by e-mailing us your sightings or scat finds. Contact Karen McDonald at SERCOutreach@si.edu. 
Here are some pictures to help you ID river otters: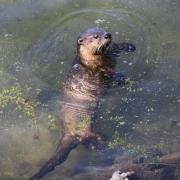 When you look for river otters, look for their heads poking up out of the water at dawn, dusk, and at night. They have brown to gray fur and a lighter underbelly. River otters can get up to five feet long and weigh up to 30 lbs. They may be alone or in groups of 5-10 individuals.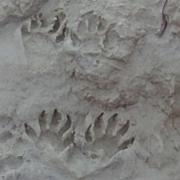 River otter tracks have clearly defined toes and feet. They are webbed and make clear impressions in sand and mud.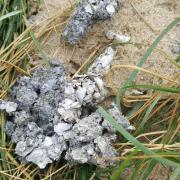 A single otter poo is called a "spraint." Spraints look flaky and are usually full of fish scales. They can be found in sand or in grass. May spraints in one place is called a "latrine."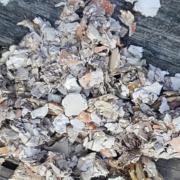 Spraints can also be found on docks and have crab pieces, crayfish pieces, bones or even feathers in them. We're also VERY interested in the parasites the poo contains too. Don't touch, but get good pictures!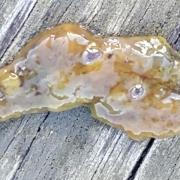 Otters are awesomely gross, and one way that they tell each other they are around is marking mucus. This is a jelly-like substance that can be anywhere from white to brownish orange, and it's often found around spraints and latrines.